Natural Sciences -
BSc (Hons)
Explore science from multiple disciplinary perspectives, embrace cross-pollination of ideas and harness your interdisciplinary background to tackle some of the world's most pressing societal concerns. You will graduate with the scientific, research and communication skills to enter a wide variety of roles.
Year of entry
Course type
Location
Subject area / School
UCAS code
Duration of study
3 years / 4 years with international or placement year
Why study Natural Sciences at Keele University?
Among the first in the UK to be accredited by The Society for Natural Sciences in recognition of its outstanding quality in providing interdisciplinary scientific education
Explore and debate multi-disciplinary scientific perspectives with peers from your cohort
Focus on real-world problems and contribute to positive change
Access to Keele's state-of-the-art Central Science Laboratories
Graduate with a breadth of scientific knowledge and an independent and creative approach to problem solving
insert-a start
Accreditation and professional recognition
Our BSc Natural Sciences degree is among the first in the UK to be accredited by The Society for Natural Sciences in recognition of its outstanding quality in providing interdisciplinary scientific education.
Accredited status means the course has been recognised for it's academic excellence and ensures your degree best prepares you for the world of employment or research in a natural sciences-related field.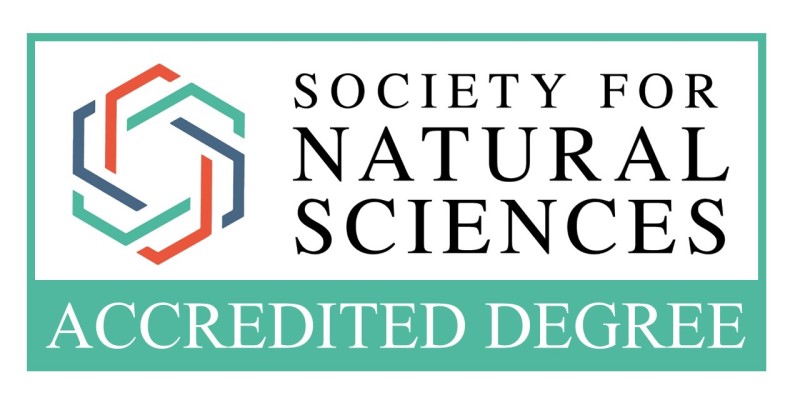 insert-a end
Additional opportunities
There are a range of additional opportunities available when studying this course.
Please note, undertaking one may impact upon the availability of another.
insert-b start
Sector-leading in environmental education
At Keele we're leading the sector in sustainability, not just in our ambitions to become carbon neutral by 2030 but also through our teaching and our ground-breaking research into climate change and renewable technologies.
We are proud to be named Global Sustainability Institution of the Year (International Green Gown Awards, 2021), which demonstrates our commitment to embedding sustainability into all that we do.
You will find sustainability embedded within all of our science modules with the aim of educating to achieve a better and more sustainable future for all.
Find out more about Keele's commitment to sustainability.
insert-b end
insert-c start
insert-c end
insert-d start
The Institute of Liberal Arts and Sciences
The Institute of Liberal Arts and Sciences is a vibrant hub which promotes interdisciplinarity for all staff and students across the University. Through a stimulating events programme including, the Grand Challenges lecture series, plus a range of conferences, workshops and seminars, the institute provides the space to engage with academic colleagues, practitioners and policy makers and to nurture new ideas and approaches that cross disciplinary boundaries.
insert-d end
insert-e start
Grand Challenges Lecture Series
From the value of exploration and inequalities within higher education to global vaccine access - our Grand Challenges Lecture Series is at the heart of our Natural Sciences programme. The lectures offer a platform for eminent speakers to discuss topical issues in society.
These lectures are embedded into some of the core modules in the programme and you will reflect and discuss political, ethical and intellectual problems from the different disciplinary perspectives of other students from the course.
insert-e end
insert-f start
Central Science Laboratories
Develop your practical skills in Keele's state-of-the-art Central Science Laboratories
insert-f end
Foundation year
Our Foundation Year provides an excellent alternative route to Keele, providing a unique opportunity to better prepare for your chosen degree, and with guaranteed entry onto your undergraduate course once you successfully complete your Foundation Year.
This extra year of study can improve your academic skills, expand your subject knowledge, give you a better understanding of higher education and, perhaps most importantly of all, build your confidence.
Keele University is consistently ranked among the top universities for student satisfaction, and we have over 70 years' experience of teaching a foundation year to students. On the Keele Foundation Year, you'll study on campus, joining our undergraduate community from the outset, with access to all the facilities and support that you'd get as an undergraduate student at Keele.
The information within this section is for students wishing to start their studies in September. If you would like to start this course in January, please visit our January pages for further details.
Course content
This Foundation Year is a two-semester programme which provides a tailored pre-degree programme of study to better prepare you for the BSc (Hons) Natural Sciences degree. Course content has been developed in collaboration with degree teaching teams, so that by the time you begin Year 1, you will be ready to excel at your studies, as the majority of our Foundation Year students do.
Our Foundation Year allows you to develop your critical thinking, academic reading, writing, and communication study skills along with subject-specific knowledge and skills which will be invaluable in your academic studies and beyond. Upon meeting the progression criteria and successfully completing our Foundation Year, you will automatically progress into your Keele undergraduate degree with the confidence that you have the skills, and knowledge needed to successfully complete your course.
Find out more about the Keele Foundation Year, including information about teaching and assessment methods by visiting the Foundation Year homepage.
Course structure
The module details given below are indicative, they are intended to provide you with an idea of the range of subjects that are taught to our current students. The modules that will be available for you to study in future years are prone to change as we regularly review our teaching to ensure that it is up-to-date and informed by the latest research and teaching methods. The information presented is therefore not intended to be construed and/or relied upon as a definitive list of the modules available in any given year.
Students on the Natural Sciences with Foundation Year course will choose to study two science subjects which will be taught over both semesters (available combinations are subject to timetabling). In addition, students will study the below modules. Students will study a total of 120 credits across both semesters.
| | | |
| --- | --- | --- |
| FYO-00185 | Practical and Academic Skills in Science | 15 credits |
| FYO-00211 | Foundations in Numerical and Quantitative Methods for Scientists | 15 credits |
Entry requirements
The entry grades outlined in this section indicate the likely offer or range of offers which would be made to candidates along with any subject specific requirements. This is for general information only. Keele University reserves the right to vary offer conditions depending upon a candidate's application. Read more about our undergraduate entry requirements for United Kingdom, European Union and International students.
Between 40-56 UCAS points from at least 1 A level/level 3 qualification or equivalent, or
Relevant work experience
AND
GCSE English Language at grade 4 (C), or
IELTS 5.5 (with 5.5 in all subtests)
AND
GCSE Mathematics at grade 4 (C) or above
How to apply
Students will need to apply for BSc (Hons) Natural Sciences with Foundation Year (UCAS code CFG1) through UCAS at www.ucas.com
Direct entry students
If you already have your qualifications, are not expecting any further results and only wish to apply to Keele, please contact the Admissions Office directly.
We also offer a January start for some of our Foundation Year courses. Adopting a blended learning approach, the January start is particularly useful for students wishing to return to education following time out of studying, or who are seeking a flexible approach to their Foundation Year studies. Our January start is available across most of our Science, Humanities, Social Science and Business courses.
Whilst still being a full-time course, our blended delivery model combines live teaching sessions - both online and on-campus - with self-directed study, enabling you to predominantly study at a time that suits your lifestyle. You will benefit from weekly online taught sessions which encourage you to engage with your teachers and peers.
In addition to online study there will be a series of full study days that you will be required to attend throughout each semester. These sessions may include lab-based activities, group work, review of course and assessment materials studied online. They will emphasise opportunities for you to deepen your knowledge and understanding of your chosen route.
Please refer to the September start tab for more information about the entry requirements and what you will study. The modules that you will take on a January start Foundation Year will be similar to those for the September start, but in a slightly different order and pattern.
For more information, including fees, the UCAS code for this course, how to apply, and how you will be taught, please visit our January Start Foundation Year webpage.
Our International Foundation Year is delivered on campus through Keele University International College (KUIC). Find out more about the International Foundation Year options on the KUIC website.
insert-g start
insert-g end
insert-h start
insert-h end
Discover the Keele difference
Everything's on your doorstep at Keele, and you'll soon feel at home and make friends wherever you go.
We help students manage their money and ensure that they receive any funding for which they may be eligible.
Make yourself more employable after graduation by taking advantage of the whole host of additional opportunities.